Please fill out the form below to book this suite for Sunday, December 17 through Sunday, December 24, 2023 or call us at 1-800-650-8199.
Help Us Find a Screaming Deal For You! Please complete the request form on the left to receive unpublished rates. We'll get back to you with availability and a secure booking link!
Description
2 BDRM/3 Bath Penthouse A
Sleeps: 6
Square feet: 2,500
Floorplan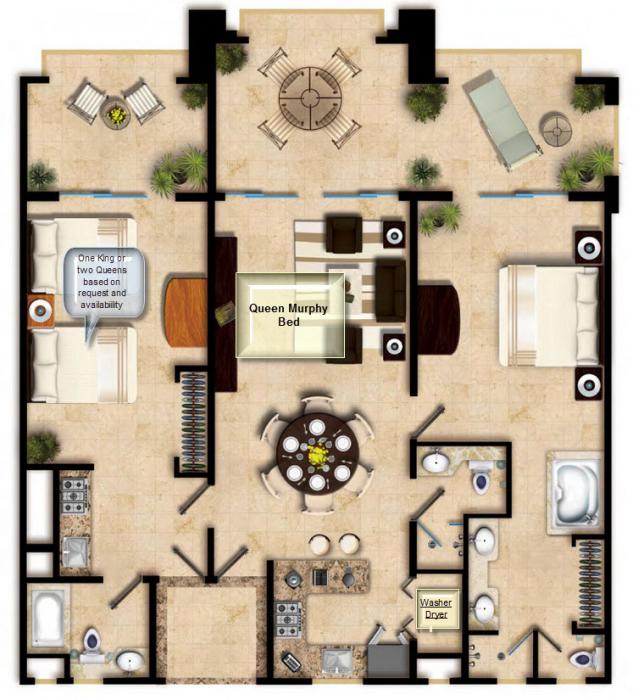 Testimonials
I just wanted to thank you for a wonderful villa. Just returned last night and we had a wonderful time. The accommodations couldn't have been any nicer. The staff, the spa, transportation, etc. Everything was top of the line. If you ever want to give my name and number as a referral, I'd be happy for you to. Thanks again and will definitely be calling in the future. Thanks again!
Mitzi D. - Clarksville Virginia
We had a fabulous time once again in paradise. The penthouse was absolutely beautiful. The staff at Villa del Arco is great-from the maids to the person that served us poolside all week, Francisco (we loved him!). I have recommended you to several people. Thank you again!
Nancy K. - Redwood Shores
Marcus requested that I reply to your inquiry as my wife and I hosted this family vacation. First of all, the vacation was extraordinary and a memorable event for all 10 of us. It will be one in our top 5 taken as a family. The Villa Del Arco was a first class facility. It was clean and the help very attentive to our needs that included very active children ages 5,4,4, and 18 months. The penthouse suite was beautiful and very functional. The room layout, furniture, hot tub and decor was perfect. We won't forget the ocean views, ocean wave sounds, sun sets and the picturesque views of the pools and property. The additional room was also well appointed. We enjoyed the restaurants and found the quality of the food at both the Del Arco and Las Palmas(?) to be tasty and well prepared. The service was good at both locations. We had a great time and will likely return sometime in the future.
Fred S. - Blue Springs, MI
Dear Bob, All we can say is THANK YOU sooo much for a wonderful vacation in Cabo!!!!! The penthouse was lovely and very comfortable. The couplke that joined us are already talking about coming back with us next year! They has a great time also. We will definitely use you and your company for any further trips to Cabo and anywhere else you are involved with. We also will never use any other ground transportation other than TransPacifico. They are the BEST!!! Thanks again, Linda & Greg L.
Linda L. - Carpinteria, CA
We had a fantastic trip!!!! Villa Del Arco was perfect with very spacious, clean rooms. It was great having the pool and beach so acessible. Your recommendation of doing the All-Inclusive was also so nice. The service, food, and restaurants were superb. In fact La Perla cooked the tuna that we caught three different ways and all were delicious. We will definitely go back and book with you.
Rita H. - Texas