Our personal and comprehensive restaurant guide is available with every reservation confirmation. But for a primer, Cabo restaurants are everywhere. The variety of cuisines and settings is endless. Some are as fancy and expensive as you'll find anywhere. Two very good ones are at Villa del Arco.
Fresh tasty seafood dinners are plentiful and reasonably priced, thanks to local fishing. "Catch of the day" might be dorado, cabrillo, dogfish, huachinango, pesca fuerta, halibut, parrotfish, sierra, any of several kinds of tuna, or many others whose names are less familiar. Several varieties of shrimp, octopus, abalone, squid, scallops, clams, oysters, crab and sea snails are popular. A nice lobster dinner runs ten dollars and up.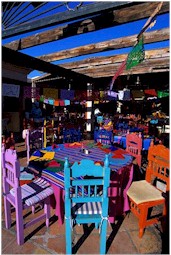 Seafood tacos are the favorite local "fast food". They can be delicious and cheap, generous chunks of whatever fish was most recently pulled from the water. Or, make it shrimp, clams, scallops or excellent barbecued chicken, pork or beef.
Local produce is inexpensive and delicious, and includes mangos, avocados, limes and other citrus fruits, papayas, cactus fruit, bananas, dates and numerous garden vegetables. Familiar U.S. grocery brands (and California produce) are generally available but much more expensive, and often not as tasty as Mexican versions.
There are hundreds of restaurants in Los Cabos as well as a number of 5-star restaurants at which to eat. Villa del Arco has two excellent restaurants, both overlooking the beach with a spectacular view of  El Arco (Land's End) and the Sea of Cortez -- El Faro (Sushi and seafood) and El Patron (featuring traditional local cuisine and is open for breakfast, lunch and dinner).

Enter Our Coupon Code and Get Access to Member Rates Today!
---
SIGN UP AND SAVE
Get access to special rates and exclusive pricing

Watch for Great Deals!

Monthly Newsletter

Insider Pricing

Save Nearly 80%!
---