Help Us Find a Screaming Deal For You! Please complete the request form on the left to receive unpublished rates. We'll get back to you with availability and a secure booking link!
Description
1 Bedroom 2 Bath "Elite"
Take your next vacation at one of the top rated Cabo San Lucas vacation rentals, the Cabo Villa Del Arco beach resort and spa. Located conveniently ocean front on Medano Beach, the only swimmable beach in Cabo San Lucas, you will have the best views and close to all the action. The resort is very family friendly with daily activities for everyone and a friendly staff that can help you reserve local tours and rentals.

Villa
: Vacation in style when you stay in a luxury one bedroom, two full bathroom recently remodeled 6th floor "Elite" villa at the Cabo Villa Del Arco resort. Many of these villas offer some of the most spectacular views of Land's End and the Sea of Cortez from your private balcony. Each of the "Elite" suites has been elegantly remodeled /refurbished to meet the demands of our most discriminating guests. Just compare the photos of these spectacular suites with the suites that are not designated "Elite " and you will appreciate the difference.
And all of these Elite suites on the sixth floor 
offer better views than comparable locations on lower level floors. Your home-away-from-home has a full kitchen with large refrigerator and stove. Next to the kitchen, you will have your own full size washer and dryer to help you minimize all the clothes you normally travel with because you don't have a chance to launder them. When you are ready to call it a night, the master bedroom has a king size bed with pillow top mattress and a private bathroom with a jetted Jacuzzi tub to relax in. Many of the
Elite
 suites offer living room feature such as Apple TVs and new hi-tech comfortable "No Bars, No Springs, No Sagging
™ 
Comfort Sleeper®" pull out memory foam
sleeper
 sofa bed with it's own private full bath, giving you space to sleep 4 guests comfortably. The one bedroom villa is one of the top rated Cabo San Lucas vacation rentals, and you will have everything at your fingertips when staying at the full service Cabo Villa Del Arco resort. 

Resort: The Cabo Villa Del Arco has too many great amenities to list. The vast pool with spectacular views has its own full-size Spanish galleon ship with a swim-up bar where you can order snacks and another margarita. From the pool area, you can walk down to Medano Beach and soak up the sun in one of the beach lounge chairs or have the staff help you reserve some fun activities like parasailing, snorkeling, whale watching, and much more. When you want to completely relax, walk over to the on-site Spa that is 30,000 square feet of complete luxury. Have an hour long massage, soak in the different temperature pools or sauna, or burn some calories in the state-of-the-art fitness center. When the sun starts going down, head over to one of the two fine dining restaurants on-site and watch the spectacular sunset colors cover the Sea of Cortez and reflect off of Land's End.
Sleeps: 4
Square feet: 952
---
Resort Amenities
"The Desert Spa" 30,000 Ft Destination Spa
Beachfront on Medano Beach
Business Center Hospitality Room
Concierge Service
Fitness Center
Free Tennis Courts
Infinity Pools with Swim-up Bar
Kids Club Program
Medical Service
Restaurants on Property
Room Service
Interior Amenities
Cookware and kitchen utensils
Dishwasher
DVD and Stereo with CD player
Garbage Disposal
Granite tabletops
Maid Service
Microwave
Pillow Top Beds
Side-by-side refrigerator with icemaker
This villa is a non-smoking unit
Wired/Wireless Internet (Resort Fee)
Zoned central air-conditioning
Floorplan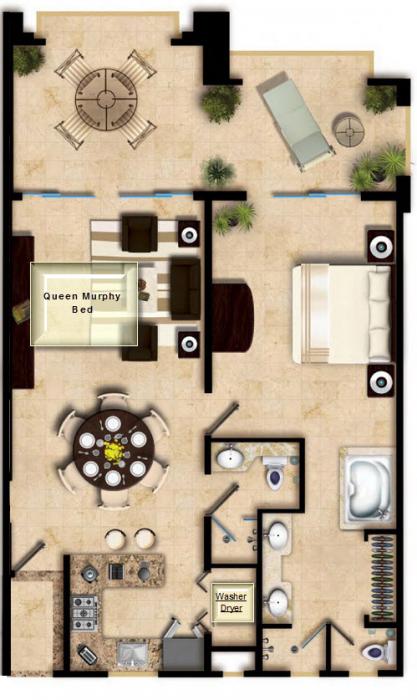 Testimonials
I think you saved our trip! It was our 5 year anniversary and we really wanted to make it special. We had already reserved accomadations years ago at another Cabo resort and were finally cashing it in. To say the least they were below our expectations. To be honest our first few days there we didn't understand why anyone would go to Cabo. It was just our location I think and that we weren't in the type of accomdation we had expected. Low and behold fate intervened and we toured the Villas Palmar and Villa del Arco and we were impressed. That is what we had expected and once we saw it we couldn't settle. We called you Bob and you made it happen. I cannot believe how excited we were. Even with our other room already paid for we were willing to relocate to have a real vacation. Maid service, a wonderful comfortable bed, windows that kept out noise, and a beautiful view of the ocean. Thank you for saving our anniversary and our vacation. The Villas-This is a spectacular resort complex. Yes, Palmar is the oldest and has a bit of a dated feel, but it is still a beautiful resort and location. We loved the Bella California Italian restaurant, Yimmy and Victor really took care of our last night celebration. They even knew it was our anniversary and they brought out a special plate with delicious Tiramisu and written in Chocolate Happy Anniversary. It was very sweet and romantic. They even dimmed the lights when we asked. We felt very well taken care of. Our room was in the newer hotel Del Arco and it was fabulous. We had a wonderful deck, where we had our breakfasts, thanks to room service. Fresh fruit and the green juice and the sound of the waves. The room was well decorated and spacious. We enjoyed the inroom washer and dryer and will definately make use of that when we come back. We can pack lighter and have more room for souvenirs. I loved the pools, the cash free aspect of the hotel, the pirate ship and of course the easy ocean access. The view of the rocks of Lands' End and Lovers Beach was worth. We only made it for one sunrise, but we vow to make it a priority next visit. Beautiful all the way around, 5 star service, and relaxing. You really outdid yourself and we would love to book again next year. Please let me know how early we can book and get the best deals for next summer. We would love to know how we can choose a room at Villa del Arco that has both a sunrise and sunset view and has two rooms. Let me know if you can help us. Sincerely, V. Hager
V. Hager - Idaho
The resort was great. I did read about unfriendly staff when checking in, and was prepared for that to happen. It never did happen. Everyone at del arco was helpful, friendly, and pleasant. Thank you for a wonderful vacation.
Greg Gursey
Fabulous trip!! The Villa Del Arco was great. Our room and view were awesome. We took your advice on transportation and that was flawless as well. Thanks so much for being so professional and so reliable. I really appreciate it. Carrie
Carrie C. - Southlake TX
Just want to say that we could not possibly be more pleased! The trip so far - from our flight to our ride to the resort to the resort itself have been perfect. The room we have is exceptional and the treatment we have received is beyond compare! I know you probably hear a lot of bitching from clients and we just wanted to let you know how extremely satisfied we are. We will definitly be back here. This is quickly turning into the best vacation ever for us. Look us up when you get here we'd like to shake your hand. have a safe flight Best Regards Ray & Sharon Zakoor
Ray Z.
Mel and I had a wonderful stay! As we arrived home in Portland to snow flurries late last night, I reminisced about the warm sunshine we had so loved this last week. The incredible location, however, was only the window dressing for a most stellar suite. The accomodations were amazing and the service pleasant. I would give Villa Del Arco a 10, a 5-star rating! We will remember it always! I want to thank you for all your help through the booking and confirmation of our destination. My sincere thanks for your attentiveness. Please, at your convenience, would you please send me recommendations of resorts in Puerto Vallarta that would be suitable for our future vacations. Thanks again. We have no doubt that friends and family of ours will someday be guests at Villa Del Arco!
Harriet V. - Oregon