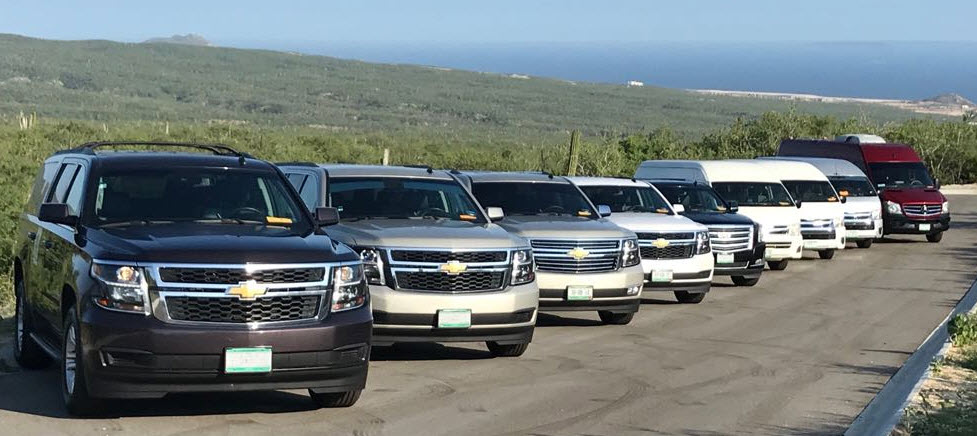 We don't provide a "shuttle bus" service, but we do offer exceptional cost effective private transportation. Travel First Class with Private Transportation! Don't risk getting an expensive taxi or waiting for a shuttle load of people to load/unload and spending extra hours making vacation consuming stops at the many resorts between San Jose and Cabo (30 miles). With our private transportation you will be greeted personally just outside the terminal by our friendly and professional driver. Cold drinks and a safe, reliable and direct ride to your resort await you. You deserve the best, but only at our great prices.

1-6   Passengers Private Suburban     $190 Per Vehicle Round Trip
1-6   Passengers Private Suburban     $95  Per Vehicle One Way

1-10 Passengers Private Van              $250 Per Vehicle Round Trip
1-10 Passengers Private Van              $125 Per Vehicle One Way
FOLLOW THE LINK TO  BOOK YOUR TRANSPORTATION SECURELY ONLINE NOW...


Testimonial: "Just wanted you to know how glad I am we found your website when we were planning our trip to Cabo. I have been so impressed with your services including how easy it was to get a car to take us to and from the airport. Being able to work thru Destination Cabo to get a car gave me such peace of mind since this is our first time to Cabo. Thanks for all you do"  Carrie C. March 2018
Phone for Rental Information:
Toll-free in US: 1-800-650-8199  (This number does NOT go to the resort!)
Within Oregon: (503) 210-5542
(Call these numbers to speak with us about Rental information.)
Phone for the Resort in Cabo San Lucas

:


Villa del Arco: 011-52-624-145-7200


(Call this number to speak to the resort or to a guest at the resort. This is an international number...there is no toll free number that we know of that allows direct contact with the resort)

 

Enter Our Coupon Code and Get Access to Member Rates Today!
---
SIGN UP AND SAVE
Get access to special rates and exclusive pricing

Watch for Great Deals!

Monthly Newsletter

Insider Pricing

Save Nearly 80%!
---