Availability
Add one of the following options to your cart or call us to reserve this suite today at 1-800-650-8199!
Reservation
Night
Total
Dec 19th ‐ 26th, 2023
Special Rate
$714
$4,995
Dec 23rd ‐ 30th, 2023
Special Rate
$571
$3,995
Dec 26th ‐ Jan 5th, 2024
Special Rate
$500
$4,995
Dec 30th ‐ Jan 6th, 2024
Special Rate
$642
$4,495
Description
2 BDRM/3Bath Suite
 2 Bedroom /3 bath suite: To complement all the amazing amenities at the resort, you will be staying in one of Cabo's best villas. The 2 bedroom suite offers comfortable accommodations for up to 6 guests and has 3 full bathrooms and a large living area to help you relax. A huge balcony spans the length of all of the rooms within the suite, with lounge cahirs and multiple seating options. When you are escaping from the warm Mexico sun, you can cook a meal using your fully equipped kitchen and do it in the comfort of an air conditioned suite. When the sun begins to set, step outside onto your private furnished balcony and watch the spectacular views of Land's End change colors right in front of your eyes. There is no substitute for the first class luxury service and amenities you will have when you stay in the 2 bedroom villa at the Villa Los Arcos Cabo all inclusive resort.
Two Bedroom Villa Suites are comprised of the combination of a one bedroom suite & a connecting deluxe studio, each with a separate locking entrance, but with an interior connecting doorway, providing 1400+ square feet of luxurious accommodations, featuring:
-One Master bedroom with a king-size bed 
-Two queen-sized beds or one king size bed in the second bedroom 
-Three bathrooms, one with a jetted tub and separate shower 
-Queen size Murphy bed in the living room 
-Complete kitchen, with a breakfast counter equipped with a blender, coffee maker, dishwasher, electric stovetop, microwave, full size refrigerator    and a toaster 
-Three digital flat screen TVs with Satellite channels 
-Air conditioning
-Telephone & Clock Radio 
-Iron with ironing board 
-Linens & towels, comforters, double closets 
-Hair dryer 
-Electronic Safe 
-Marble floors 
-Ceiling fans 
-Washer and Dryer 
-Mini bar 
-Large balcony with patio furniture. 
Sleeps: 6
Square feet: 1,420
---
Resort Amenities
WiFi Internet (Resort Fee)
Interior Amenities
Complete stove with oven
Cookware and kitchen utensils
Dishwasher
Garbage Disposal
Granite tabletops
Microwave
This villa is a non-smoking unit
Washer/Dryer
Floorplan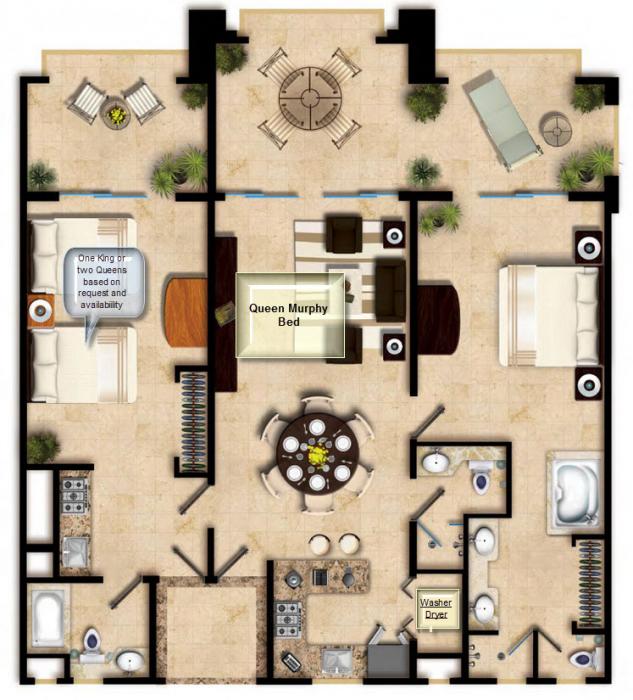 Testimonials
Bob, We had a wonderful vacation in Cabo. The condo was very nice, we all loved it! Everyone at the resort was very helpful and lovely! We certainly will come back and go through Destination Cabo! We travel quit a bit and my only 3 topics of improvement which I'm not sure you can do much about: wi-fi. Typically at high end resorts, paying for wi-fi no longer exists, felt nickel and dimmed having to pay $10/day/per device. The pool attendants are very kind and helpful, would be nice to not let people come down at sunrise and lay towels on chairs only to sit empty most of the day. If the pool attendants helped guests find chairs as they arrived, I think everyone would have a chair when and where they wanted. Perhaps even adding more cabanas: we would have rented a cabana, they only had 2 seats per cabana and would only let us reserve 2 of them, with 6 of us, did not work. I would also suggest the facility buy new towels for the condo, we had plenty. however, they are looking rather worn. What we loved: The catered dinner on Christmas Day was amazing! Your tips on everything including Costco and Walgreens saved big $$ Not buying the inclusive package was fantastic advice Restaurants: our 20 something kids enjoyed Tabascos for lunch, Panchos for dinner was very good as was LaDolce. Your transportation recommendation was terrific, service awesome We all had a great time, everything you presented on your website was accurate. Thank you for your help in making our Christmas memorable and Happy New Year! Wendy
Wendy - Seattle
All was fantastic! I will definitely be a return customer of yours! Shana
Shana H. - Sausalito
You did it again. As you know we are frequent visitors to Los Cabos and the surrounding area. Since this was going to be a longer trip I felt I should give you a call for the best deal at our favorite Vill del Arco. Once again you did a great job! From the incredibly reliable service of transportation to and from the resort to the room itself, everything was perfect. Knowing a bit about the resort I was able to secure a top floor room near the penthouse for a small upgrade fee which due to your incredible rates made perfect sense. We also added the "All Inclusive" to our stay upon arrival and were very, very pleased with our decision, it really is all inclusive! Villa del Arco and really all the Villa properties are very well managed and the rooms are always very clean, not to mention the incredible staff. All the way from the groundskeepers to the management. We will be calling again soon because unlike other travel providers to Cabo you go above and beyond to make your clients stay, as easy and relaxing as possible. Can't thank you enough. Craig
Craig L. - Farmington, NM
We loved Villa Del Arco and definitely plan on going back. Our view was spectacular especially for the New Years Eve fireworks display. The spaciousness of the 2 bdrm/3bath unit was perfect for our family of four. All the employees were very kind and helpful. Thank you again.
Lisa B. - Overland Park, KS
Thank you for arranging our stay at Villa Del Arco/Villa La Estancia. We have visited Cabo several times, and have always stayed at La Estancia, but this last stay was the easiest and best vacation, largely due to you. You had the ability to work out a vacation for us on the exact dates we needed, which I could not do on my own through VRBO or other sources. I will definitely call you the next time we plan to visit Cabo, which will hopefully be next year at this time. The car service we arranged through your contacts was very good and reliable. The driver was very pleasant and had a plethora of information for us about the area. My family had never stayed at Del Arco before. I can honestly say that Del Arco was equally as beautiful and comfortable as La Estancia. We will gladly stay at either resort in the future. I can also honestly say that in the future I will save my time and call you directly instead of trying to work a deal through VRBO. Your rates are competitive and your resource of the large number of units you represent makes trip details easily arrangeable. Thank you for the wonderful Christmas trip. Kurtis and Rory Lubbock, TX
Kurtis & Rory - Lubbuck, TX